Emma Hardie Moringa Cleansing Balm firmly gets our Aqua Loves….. stamp of approval.
Cleansing is one, if not the most important, step of any skincare routine in order to achieve and to maintain good skin health. Â A clean, balanced and fresh canvas creates the optimal starting point for any serums, creams or treatments which come after.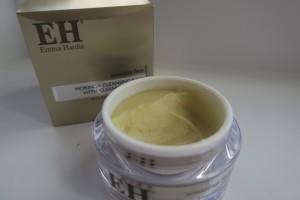 The box contains the balm (the pot is a big one with a substantial amount of product!) and a cleansing cloth – one side microfibre and the other muslin. The balm is solid, smells divine and a little goes a long way. Â  I have quite sensitive skin and usually any products which contain a slight note of fragrance has the potential to cause havoc. Â I also have dry skin (lacks oil) but can also be prone to the odd breakout. Â I was a bit dubious of rubbing oil all over my face to start with (*I have issues – more than Vogue some would say!*)but you have to face your fears. Â I absolutely love this product and wish I had discovered it sooner. Â The texture and hydration of my skin has improved significantly and make-up sits so much better.
Use about a 10p size of the balm, on contact with the warmth of your skin the balm melts into an oil, massage over face, then wet fingers in warm water and re-massage the oil which emulsifies it (turns it milky white with a lotion consistency), wet the cleansing cloth in warm water and use to remove all the product.
Your skin will be left feeling super soft and smooth, no oily/greasy residue but with a clean, hydrated and fresh feeling. Â No tightness, no redness – just plumped and nourished.
The key ingredients are:
Moringa Seed – a renowned tissue strengthener and potent source of skin essential vitamins and minerals.
Sea Fennel and Vitamin E – rebalance, purify and reduce the appearance of pores.
Extracts of Jasmine and Rose – to restore radiance to dull, dehydrated and tired complexions.
This balm is suitable for all skin types (yes, even oily ones!), you can use it morning and night and you can leave the balm on the skin for a 10 minute "super mask" treatment if you feel that you skin is in need of a little extra TLC.
To order please click on the link below:
https://www.aquaskincare.co.uk/product/moringa-cleansing-balm-cleansing-cloth/