Every year we see a whole host of trends emerge on social media and 2016 was no exception.  Whilst some trends seem set to become the norm there are definitely some weird and wonderful trends which should firmly remain "So Last Year".  Now, this is only a bit of fun and if you love some or all of these, then carry on embracing the trend……..
Your Kitchen is not your Bathroom!
Food is meant for consumption not for applying to your face.  One of my very strange habits (I have a few!) is to only eat the yoke of an egg – now what to do with the white?  I know, I'll apply it as face mask!  Genius……. NO!! I have seen many a video clip of DIY face masks using all kinds of food from egg whites, avocado, honey, yogurt…..the list reads like something which should be in a Mary Berry cookbook.  Whilst it may seem more resourceful and economic to whip up something in your food mixer to slather all over your face, you could find that you are creating more skin irritations and concerns than you thought you were tempting to solve.
2.  100 layers of……….anything!
This just prompts one question……WHY?  It started its social media phenomenon with the 100 layers of Nail Polish Challenge – not only a serious waste of perfectly good product resulting in a hideous looking impractical manicure but soon escalated into 100 layers of…..fake tan, foundation, mascara, face masks.  Stop it now!
3.  Beauty Hacks
Every hour of every day there seems to be some "new" trend surfacing which will revolutionise the way we do our make up, look after our skin or style our hair.  Great, if they work and actually save us time and money but completely pointless if they are the opposite.  I do not want to contour my face with the contents of my kitchen cutlery drawer, curl my hair with tampons, blend out my foundation with a "chicken-fillet" bra insert or apply 6 rolls of sellotape to my face.
4.  Medicines as Make Up Face Primers.
One of the biggest skin concerns which trends try to resolve is an oily, shiny complexion with the reduction in the appearance of pores.  Touted as the "miracle" cure for such problems are medicine cabinet products being used as facial primers.  Firstly, there was Milk of Magnesium – which is primarily a medicine for digestive problems.  Due to this product having such a high alkaline pH level (over 10 pH when the skin is naturally around the 5/6 pH level) applying this to your skin will more than likely upset your skin's natural acid mantle – this is your skin's defence system.  Next, we saw trending was Vagisil being using as a primer……..Mmmmm……. this should only be applied south of your belly button and not north of it.  Leave the medicines for what they were intended to treat.
5.  Unicorns
Now, don't me wrong I love these whimsical, mythical creatures, what's not to love about them – but social media seems to have an addiction to all things "Unicorn" which is bordering on an obsession.  I cannot comprehend any circumstances where by applying a unicorn (er….rainbow, yes rainbow!) highlighter to my face will result in me looking not much short of ridiculous.  Highlighters are created to enhance features of your face where the light would normally catch, creating a soft & beautiful glow so unless you are The Grinch or a Smurf where would a green or blue highlighter ever be a valid option.  Next, was the Unicorn eyeliner, no disputing that it is stunning but…. Jeez, us mere mortals struggle with the wing liner at the best of times without the addition of making it look like a Unicorn's horn.  Unicorn hair, Unicorn nails ………… enough already!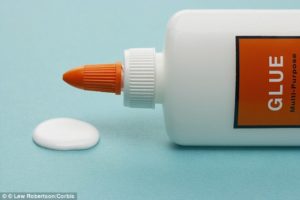 6.  PVA Glue as a Pore Strip.
Cast your mind back to school when there was something pleasing about peeling dried PVA glue off your little mitts (or…is that just me!).  Fast forward a number of years, who would have thought that it would be trending as a facial treatment.  Applying a thick layer of the glue to your nose, allowing it to dry and peeling it off to tease out all those blackheads.  This will never be a good idea for your skin,  no thank you, I will leave the glue for my next papier-mache creation.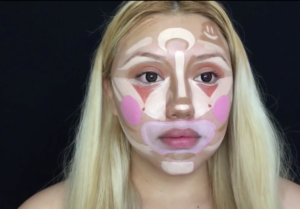 7. Contouring,  No-Contour Contour, To Bake or not to Bake, Strobing, Highlighting, Clown-Contouring etc 
Should I be baking, strobing, contouring, not contour, highlight??  Flick through a number of feeds and you will be awash with conflicting information about how to apply make up for that flawless finish.  Fabulous, if you can nail the latest technique but I seriously do not have the time or inclination in the morning to bake my under-eye concealer, draw an ordnance survey map on my face in various shades of beige or highlight my cupid's bow in-between finding the forgotten PE Kit and bundling the troops up for the school run.  Plus, don't be fooled into thinking that contouring can be limited to just your face – oh no….you should now be contouring your neck, your chest, your legs and your feet.    Sorry, I value my sleep too much.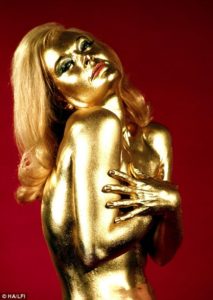 8.  Highlighting
Think……."GlitterBall" and you will be somewhere close to finding the correct benchmark of when your highlighter is just about where it should be.  "Less is More" would not be a relevant phrase for this trend, so unless we can locate you from outer space you have not succeeded in mastering this trend.  Most importantly, don't forget to add a massive amount to the tip of your nose, because we all know that is the only focus point that should be seen on your face.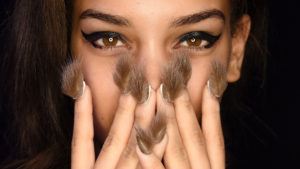 9. Fur Nails 
Kind of speechless on this one…..  I'm a massive fan of Star Wars but a Chewbacca Manicure is not something I will be requesting any time soon.
No doubt this year will see the arrival of a whole new wave of trends which will have us wondering and trying to master, so roll on 2017!
Click HERE to read our predictions for 2017!