Alpha Peel
---
Its May already, which can only mean its time for a new Limited  Edition Facial. May's facial is not only limited Edition, it also introduces a new peel to Aqua … Alpha H.
Alpha H offer 4 different peels, offering different strengths and targeting different concerns.
Our Alpha peel includes the Enzyme peel, which can be used on all skin types, yes even the sensitive skins. Mixed with the powerful amazing liquid gold. This peel is perfect recharging, energising & exfoliating the skin. With a powerful blend of fruit enzymes to instantly smooth, firm and revitalise your complexion.
To super charge this facial even more, your lovely therapist will select an Alpha H putty masque (alginate mask). These incredible putty masques add an intensive lifting effect to the treatment and create a powerful occlusion which pushes the active ingredients from the facial even deeper into the skin. Super charging  the facial with visible benefits.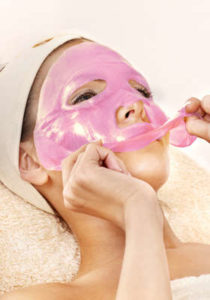 Aqua's Alpha Peel concludes with our powerful Dermalux treatment. This treatment is the latest generation of LED Phototherapy technology. It accelerates your body's natural process. If you think of skin cells as little batteries, overtime the energy in your skin cells is used and Dermalux LED Phototherapy helps to recharge these cells enabling them to function efficiently and effectively.
Whilst your skin is being treated to an enzyme exfoliant, used to break down the surface dead skin cells, in turn brightening and hydrating the skin, your lovely therapist will also massage any stress away!
Our limited edition Alpha Peel is only £50, available until the end of May… Don't miss out! BOOK HERE.
Not forgetting your Aqua Boosters, taking your facial to the next level by creating your own personal 'add ons'. If you have a particular concern that effects you we are here to advise you and hopefully help resolve your concern. Have a read up on our Booster Shots – HERE.
See you all soon Ady 🙂 xx